In This Exclusive Online Course You'll Learn How To...
Leverage your passions, talents and experience into a practice you wake up wanting to go to
Research target markets to find patients who need you and are willing to pay top dollar
Develop a niche around your unique expertise to stand out from the competition
Validate your ideas and services to avoid starting a practice that won't pay the bills
Create a launch team who will help get your practice off the ground from day one
Set up minimal viable business systems to keep things simple and cost effective
Deliver exceptional value your first client and get paid for it
Leverage an outstanding patient experience to grow your practice without spending boatloads of money on marketing
The Cash Practice From Scratch Course is the best strategy to start your own business with the least amount of risk and cost. You'll create a solid Pre-Launch foundation strategy and utilize only the essential business systems to get your practice off the ground fast.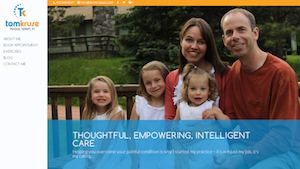 This Could Be You

I regularly have therapists ask me how to start their own practice, I immediately think of Tom.
Tom left a sizeable salary and ownership in the large group practice to start his own clinic. At his old job he found himself going to work early and staying late. He decided he wanted to spend more time with each patient and to be home in time for family meals.
Tom's own practice has thrived since the day he opened his clinic doors. He literally had patients wanting to be scheduled while he was moving in his equipment. Tom now earns a great income and has the work-life balance that he desired.
While there are several factors behind Tom's success, what stands out to me the most is that he kept his startup simple and he built a solid base of supporters before his launch. By keeping his overhead low and providing exceptional value he is able to enjoy a steady flow of patients and income.
Starting a business as a cash practice allows you to learn first hand what services consumers are willing to pay for. You're no longer dependent on middlemen to tell what you're worth. The consumers tell you through their checkbook. The physical therapists in private practice typically make a six figure yearly income. More important than the salary is that therapists are paid for the value they deliver and how hard they work.
The big advantage of a cash practice is that you don't have to spend hundreds of hours learning how to be paid by insurance companies. You don't have to jump through a bunch of hoops to please referring doctors.
You can get started right away with minimal startup costs and earn an income helping people who trust and want what you offer.
The good news is that you can pay for your this course by seeing just one or two patients!
Is There A Money Back Guarantee?
Starting and managing a successful practice is not easy. It's not for the fainthearted. You have to be self-motivated, overcome obstacles and find a way to make it happen.
I want to be completely honest with you, no one can guarantee that your new practice is going to be a success.
However, I want you to be fully satisfied with the Cash Practice From Scratch Course. I'm confident if you put in the work, you'll get results. But life happens and if at any point you discover you don't feel the same way, then I want you to have your money back.
If you've turned in your homework and the course isn't meeting your expectations after one month I offer a 30-day money back guarantee. To reach your goal of practice ownership the course requires that specific work be done throughout the program.
In order to get your full refund you just need to do two things. Submit your finished homework through Module Three along with your request for a refund within 30 days. If you have any questions regarding the guarantee just email me at heypaul@paulpotterpt.com.
Bonuses
If you sign up for the Cash Practice From Scratch Course Course today you'll receive a free Cash Practice From Scratch Companion Workbook. The companion workbook contains all the course exercises and resources in one location. This workbook will give you a place to record your progress and it's absolutely free.
You'll get the digital and audio versions of my book On Fire:Ignite Your Passion With A Cash Therapy Practice. On Fire will provide you background information and guidance on why now is the perfect time to start a cash practice.
You'll also receive absolutely free my interviews with cash practice pioneers Aaron Lebauer, Jarod Carter, Chad Madden and many more to put your practice startup on the fast track.
Order "The Cash Practice From Scratch Course" Now For Three Monthly Payments of
$367
Here's what you'll get when you sign-up for the Cash Practice From Scratch Course:
6 Step-by-step modules with easy to implement lessons presented in 16 videos
Personal online assessment to identify exactly where you're at in the practice launch process and what you need to do next
A library of resources, trainings and "how to" shortcuts to get your practice off the ground in the shortest amount of time possible
Two 30-minute private coaching sessions with Paul to solidify your implementation strategy to help you keep moving forward
Monthly office hours with Paul and other therapists just like you to problem solve, share resources and have accountability
Private group interaction and support with other therapists in the course community section
Enrollment for the premium version of the Cash Therapy Practice Course is now OPEN.

P.S.: The time is now. Those big healthcare corporations are going to keep putting more patients on your schedule until you've got nothing else to give. Do you have the courage to take your career into your own hands? Now is your chance to fulfill your dream of starting your own practice a reality. Will you go for it? CLICK THE ENROLL NOW BUTTON BELOW TO BECOME YOUR OWN BOSS.